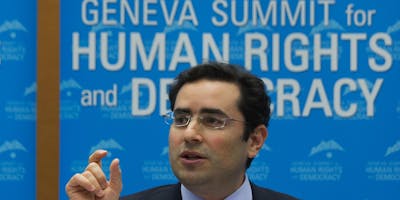 The Zionist Organization of America invites you to join acclaimed speaker and human rights activist, Hillel Neuer for a compelling lecture and discussion on UN bias towards Israel and current problems within the global human rights movement. Originally from Montreal, Mr. Neuer is an international lawyer, diplomat, writer, expert witness, and
More »
The Zionist Organization of America invites you to join acclaimed speaker and human rights activist, Hillel Neuer for a compelling lecture and discussion on UN bias towards Israel and current problems within the global human rights movement. Originally from Montreal, Mr. Neuer is an international lawyer, diplomat, writer, expert witness, and activist who serves as the Executive Director of UN Watch. UN Watch is a human rights NGO and watchdog group based in Geneva, Switzerland. As one of the world's foremost human rights activists, Mr. Neuer has advocated for Darfur victims at the United Nations, political prisoners in Cuba, victims of torture in nations throughout Africa and Asia, Lebanese victims of Syrian political assassinations, and against the rape and enslavement of women in Syria and Iraq. He has also been outspoken and critical of the UN Human Rights Council regarding their one-sided bias, delegitimization, and demonization directed against one UN member state - Israel. In 2014, The Jerusalem Post described Mr. Neuer as a man who "struggles valiantly and successfully to expose the truth about human rights as practiced in the United Nations and other so-called civil rights NGOs".   

RSVP is required for attendance.  Please RSVP at the link at www.westcoast.zoa.org or by email to dkadosh@zoa.org.
This program is sponsored by the Zionist Organization of America, West Coast.  Contact David Kadosh for sponsor opportunities, 925-750-7590.
Current Co-Sponsors: Club Z, ICC@JCC, Congregation Beth Am, World Zionist Organization, Israeli-American Council
Zionist Organization of America (ZOA) President Morton A. Klein and ZOA Chair Mark Levenson, Esq. released the following statement: ZOA is compelled to again urge StandWithUs (SWU) to correct a serious falsehood, which they've now repeated on their website, in a suggested sample letter.  The StandWithUs letter falsely states that "Israel does not oppose the notion [...]
Founded in 1897, the Zionist Organization of America ("ZOA") is the oldest pro-Israel organization in the United States. With offices around the country and in Israel, the ZOA is dedicated to educating the public, elected officials, media, and college/high school students about the truth of the ongoing and relentless Arab war against Israel. ZOA is also committed to promoting strong U.S.-Israel relations. ZOA works to protect Jewish college and high school students from intimidation, harassment and discrimination, and in fighting anti-Semitism in general.
Read more →